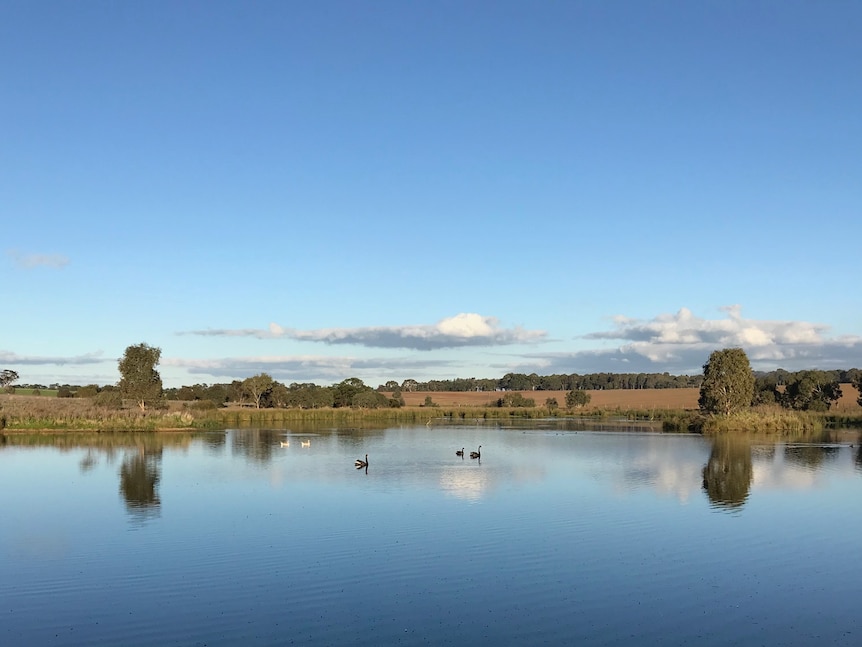 When Ian Whiting started planting bushes and shrubs on his sheep farm, he did not realise his efforts would create a worthwhile habitat for a various vary of birds past the standard magpies and crows he noticed.
Now retired, the third-generation farmer, who spent 20 years planting shelterbelts on his prime lamb and wool farm in Branxholme, in south-west Victoria, at all times believed the revegetation of farms was good for birdlife.
And now findings from one of many longest-running farm restoration research — lately printed within the journal Organic Conservation — has given credence to his perception. 
Revegetating cleared land
Mr Whiting's grandfather bought the undulating property in 1937 and, aside from a number of monoculture shelterbelts of pine, it was largely devoid of bushes due to historic land clearing.
Within the Nineties, with the guidance of the late John Fenton, a trailblazer in pastoral revegetation, Mr Whiting and different locals began the Smokey River Land Administration Group.
Mr Whiting additionally started revegetating his 2,500-acre (1,012-hectare) farm on the fee of 1 shelterbelt a yr for 20 years.
"We learnt to develop far more engaging shelterbelts to help the birdlife," he stated.
The shelterbelts provided birds safety to soundly feed on the bugs that lived there.
Over time, Mr Whiting and his spouse Sally started seeing extra finches, wrens and kookaburras on the property.
He additionally constructed a dam, and fenced it off from livestock, which attracted resident waterbirds.
Altogether, Mr Whiting's restorations lined about 5 per cent of his farm and was a "huge enchancment".
"It was an enormous distinction within the 20-year interval from the time we began our Landcare plantings to the place I completed," he stated.
Examine paints long-term image 
In 2007, he was approached by La Trobe College analysis fellow Angela Haslem, who was desperate to learn the way nicely revegetated landscapes on farms might recuperate.
Dr Haslem's group started surveying fowl numbers and species discovered amongst native vegetation, shelterbelts between paddocks, tree plantations and landscapes round creek corridors as an indicator of how nicely the land had recovered.
Her group surveyed 23 800-hectare areas, together with Mr Whiting's shelterbelts which have been about 15 years previous by then, and in contrast them with remnant parcels of land that had by no means been cleared of native vegetation.
Twelve years later, her group returned to the identical websites to survey the birds for a second time, making it one of many longest research in revegetation analysis.
She discovered that in 2007, remnant landscapes had about 20 per cent extra birds than revegetated landscapes that have been between two and 40 years previous.
However by 2019, these fowl numbers on revegetated landscapes had "primarily caught up".
"Restored and remnant [vegetation] have been supporting related numbers of woodland fowl species," Dr Haslem stated.
"Anecdotally, we might see that because the revegetation was bettering, there have been extra species, however we [didn't have the capability] to exit and rely them ourselves," Mr Whiting stated.
"So, to have a college participate and do these counts [which] went for fairly a very long time, the info exhibits that revegetation on farms is sweet for birdlife."
Native vegetation nonetheless finest
Dr Haslem stated though fowl numbers rose in revegetated areas, the kinds of birds discovered have been totally different from these at native remnant websites.
She stated restored landscapes tended to help birds similar to blue fairy-wrens and New Holland honeyeaters which most well-liked shrubby vegetation, whereas remnant vegetation supported species together with the brown treecreeper and crested shrike-tit that relied on bark and mature canopies for foraging and breeding.
"This actually highlights the significance remnant patches and components have, even when it is only a scattered, mature tree in a paddock," Dr Haslem stated.
For Mr Whiting, the advantages of restoring and reserving land for wildlife have been clear.
"The fee is shortly offset by enhancements in productiveness on farms, grazing pastures, and survivability of livestock, so it is a win for farmers to be placing the bushes in."